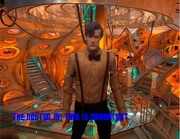 A cameraman walks over to several screens, where he's baffled by two strange creatures on one of the screens- Silence. A Silence is then behind him, about to strike... Meanwhile, the Doctor in the TARDIS says to himself "My time is running out" and the TARDIS flies away, the Doctor's death date on the screen... All the while, a variation on the Tick Tock rhyme can be heard.
Continuity
Edit
This acts as a prequel for The Gallery.
The Silence return.
The Tick Tock rhyme from Night Terrors returns.